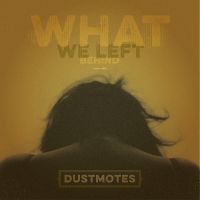 Putting some new British trip-hop in the feed this morning. A release called What We Left Behind by dustmotes dropped on the Dusted Wax Kingdom netlabel this week. It is a wonderful collection of melodic and innovative trip-hop.
The moving force behind dustmotes is London-based Paul Croker. One of the calling cards of the dustmotes releases is the blending of the "crunch" of the turntable and smooth digital samples.
A snip from a description for a previous release explores this aspect:
His love affair with the vinyl format started at the age of 4, when he was given his first 7" single, and would grow throughout the next few decades throughout the Hip Hop, Trip Hop and Big Beat movements. During the early years, he ruined a few parentally-owned record players teaching himself to scratch and mix records.
Smooth and crunchy, have a listen.
dustmotes - Glass Harp