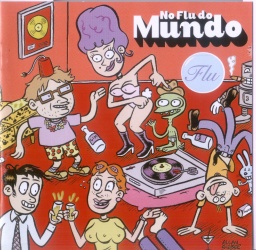 What a find! Thank you,
Starfrosch!
From the ever prolific, Bump Foot comes this delightful release,
No Flu do Mundo [foot053].
This one is hard to categorize...aren't they all. I leave it to the liner notes:
People have said that Flu makes samba pop, that he is psychedelic, or that he is modern. Words are not always the most exact way of defining sounds. Flu's new record is something to be listened to and tasted in all its richness before it is labeled or thrown into one of the many preconceived pigeon-holes of pop culture classification.
Go get all thirteen tracks...this one is a keeper.
Flu - A Vez do Brasil