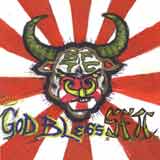 IT'S MONDAY, IT'S MONDAY, IT'S MONDAY, IT'S MONDAY!! IT'S
BIRDSONG
, IT'S BIRDSONG, IT'S BIRDSONG, IT'S BIRDSONG!!
I thought I'd start the week out right with some hardcore punk. Forgive the non-cc references, but it's like old Greenday, mixed with M.M.Bosstones, and a gigantic bull ring - but better ;) Heavy chainsaw overdriven guitar, guttural singing, relentless speed drumming, tireless bass - this album is a collaboration between
birdsong.co.il
and
High-Fiber
.
"SxFxTxC (Shmen For The Children) are a four-piece hardcore punk group from Maccabim-Re'ut, Israel. The band started playing together in the summer of 2004 when they were all staying in Berlin. SxFxTxC are here to save the world and bring destruction all at once."
enjoy...
SxFxTxC - Shmen for the Children