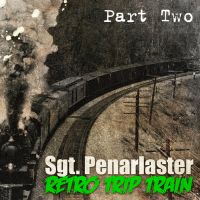 Bulgarian netlabel, Dusted Wax Kingdom has just released the second in a two-part Extended Play collection by Russian artist Sgt. Penarlaster. The music captures that sort of retro downtempo triphop feel that is Dusted Wax Kingdom's calling card.
The track we are posting today does a really nice job blending and using found audio as a central element. We think you're going to like it.
Sergeant Penarlaster is Serge Khurs, a musician from Moscow. He reflects on his artistic approach on his Soundcloud page:
My music is a mix of retrospective sounds, beats and melodies that are born on the soil of my own feelings.
Part one of this series was released in January 2014. Our bet is that you will want to experience both of them.
Sgt. Penarlaster - Goodbye Gino