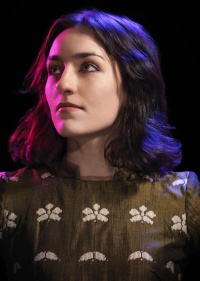 The voice takes me back to the mid-aughts...say about 2006-2007 when CalendarGirl, aka singer song-writer Tamara Barnett-Herrin was laying down tracks for the mixters at ccMixter.org. Of course, those tracks haven't gone anywhere and in July 2014, Elijah Lucian provided a fresh, updated take on her "June" tune.
Mixter Spinmeister interviewed CalendarGirl in 2008 and here is a taste:
In October 2006, singer song-writer Tamara Barnett-Herrin from London in the UK published a one sentence challenge to herself and to remixers around the World Wide Web: "I write one song a month. You remix and feedback. We make a record." This experiment in songwriting and remix culture unlike any other yielded over

300 remixes

, setting a new record at ccMixter. Twelve of them have been chosen to be published in an album titled

Calendar Songs Volume I

. Known to the ccMixter community as Calendar Girl, she has graciously agreed to an interview with ccMixter.
Take a listen. Very nice...almost magical.
Elijah Lucian - CalendarGirl - June (Elijah Lucian One Hour Beat)